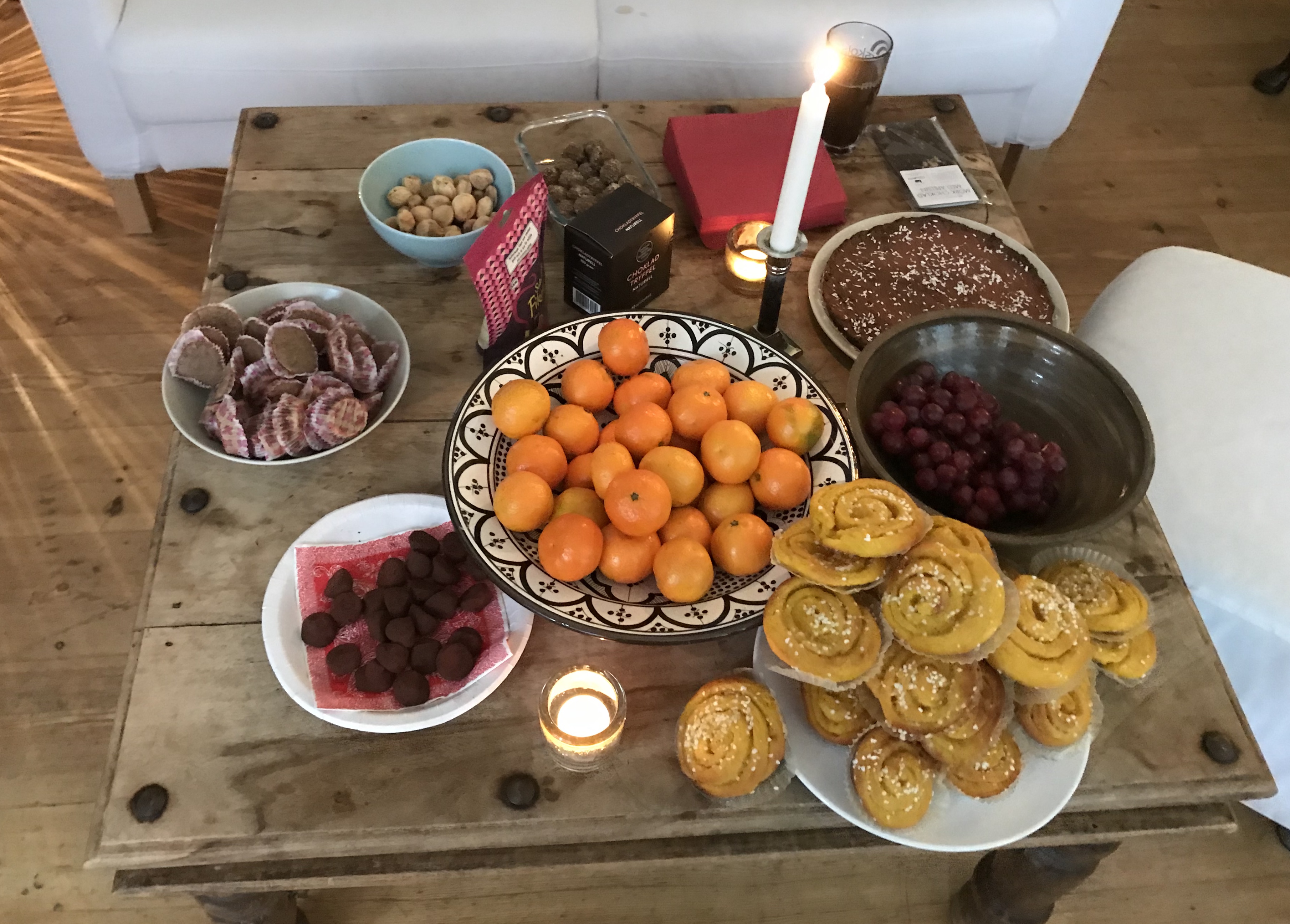 With the autumn semester coming to an end Ashtanga Yoga Malmö would like to take the opportunity to thank you, our practitioners, for another year. Your commitment and attendance has made it possible for us to keep the shala open. Without participants, there would be no classes. We would like to celebrate this with you by inviting you to our annual CHRISTMAS PARTY/BRUNCH on Sunday 5/12 after the guided Primary Series class. Everyone (with family and friends) is welcome to the veg. potluck. If you can't make it to class, you are of course welcome to join only the brunch. Bring a vegetarian/vegan contribution to the buffet and please register in advance so that we know what numbers to expect (read more in the event)
The weeks running up to Christmas and New Year's Eve are always a bit special and quite cosy with decorations that light up the dark. The solemn atmosphere provides a chance for reflection, the opportunity to show gratitude and to "give back" to less fortunate groups in our society. Ashtanga Yoga Malmö continues the tradition of doing 108 SUN SALUTATIONS in support of the organization V-Care in Mysore, India. On Friday 10/12, we organize this class in the spirit of giving and raise money for V-Care, who works for children's rights in the most vulnerable groups on the margins of Indian society. The class is donation-based, i.e.  you give a contribution in cash or via swish 123 576 46 91. Donations are also welcome even if you don't join the class. More info and registration here.
For the CHRISTMAS & NEW YEAR HOLIDAYS we'll have special opening hours. The autumn schedule runs until 23/12 and after that we have adapted the class times to the holidays. The last class of the year is a guided Primary series class on 31/12 at 09am. After that we are closed 1-5 January. Detailed information about the schedule between 24/12 - 5/1 is available here. There you can also view the spring schedule which starts on 6/1 - 22.
During BOXING WEEK 27-30/12 we are particularly happy to welcome guest teacher MATT RYAN from Manchester. For four days we will benefit from his long experience in Ashtanga yoga and Zen meditation. Matt's guest workshop includes morning Mysore classes, Zen meditation before lunch and evening workshops with a special theme. The Mysore classes are open/dropin as usual while the workshops require pre-registration. The workshop is open to all levels of practitioners, including beginners. Classes are taught in English. Do not miss the chance to learn from such a fun, down-to-earth and competent teacher as Matt. – more info and bookings here
While we are closed for a few days in January, we would like to take the opportunity to do some NEW YEAR CLEANING. We therefore ask everyone who keeps their yoga mat at the shala to take it home no later than 31/12 and to give it a proper wash! Any remaining mats that have not been picked up are donated to recycling. Thanks for your cooperation.
That's all for now, but before ending this newsletter we would like to push a little extra for a new class on the schedule that starts already in December. On Thursdays at 17:15 starting on 2/12, Helena will teach a FOUNDATION LEVEL2 CLASS/COURSE up to (max) half Primary series. It's a perfect class for those who want more guidance at a slower pace after completing a beginners' course or who have had a pause from practice. Open to everyone as a course or drop-in with a klipp/monthly card. Read more and register here
The next newsletter will be distributed early January 2022. That said, you can already get a heads up of all planned courses and special workshops if you visit our events page. Please make sure you stay updated regularly by following us on social media. And if you are not a member of our closed Facebook group, we recommend that you apply to get access to daily updates.
We wish you all a wonderful winter time and a smooth "jump through" to 2022.
Isabella & crew