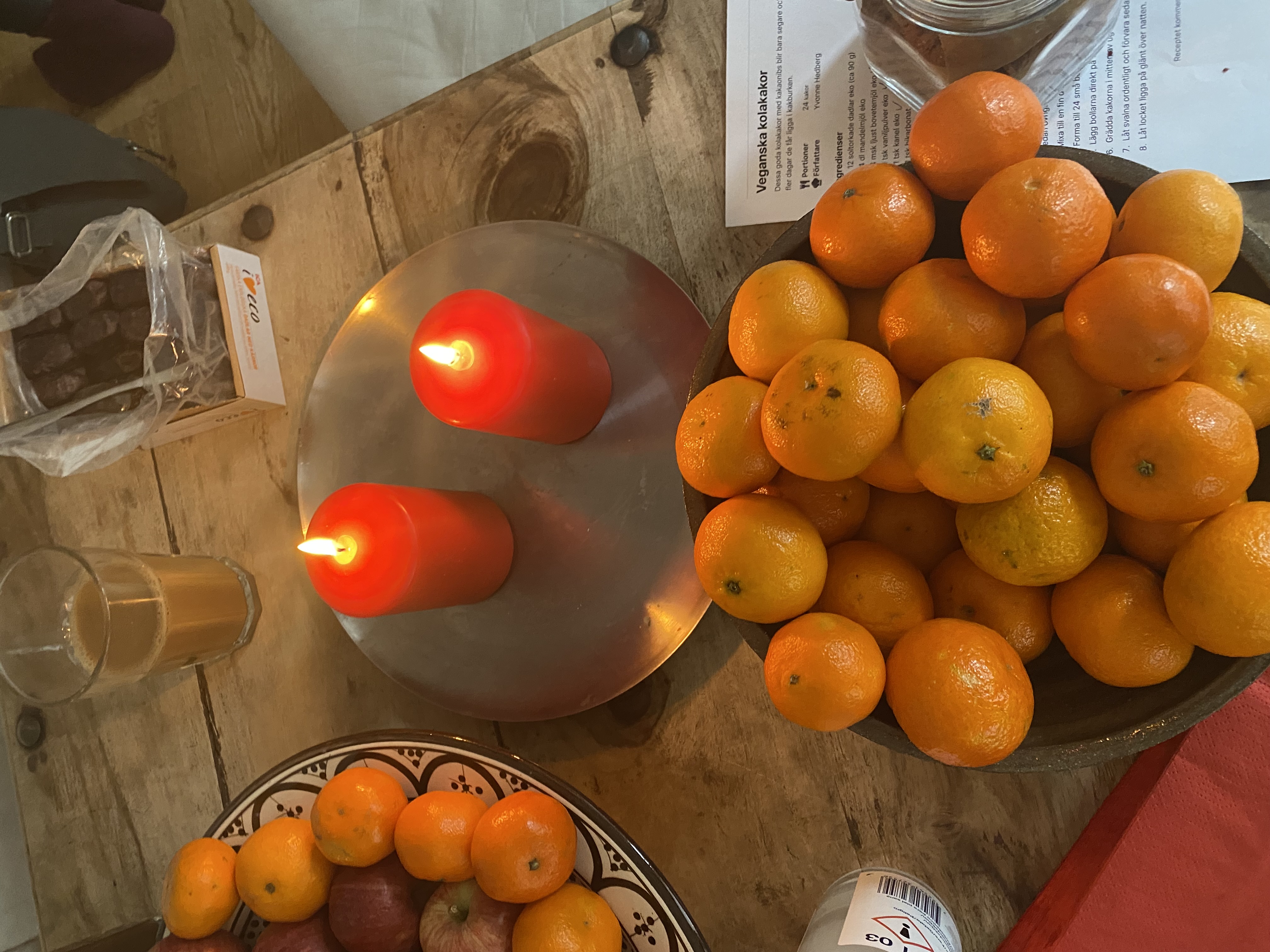 When the trees begin to shed their leaves it's a clear sign that the autumn season has set in. Very soon it's time to change the clocks again and as the days get shorter and darker we make it cosy with lit candles and more time for social gatherings in the shala. We're keeping the shala warm with lots of activities going on - recently a whole bunch of beginners graduated from the foundation course and after the autumn holidays we launch a new round of courses. At the start of the autumn semester we had two very successful and informative guest lectures; Måns Broo in September with the theme of Bhagavad Gita and Sussie Nicklasson in October on the principles of Ayurveda. Both events were much appreciated and we look forward to welcoming both Måns and Sussie to the shala again in the future.
In this newsletter you'll read about the second half of the autumn semester; about the new courses that start in November as well as a bunch of social events in December that follow the spirit of the season: celebration, giving back and reflection. Last but not least, we want to flag a little extra for our "winter escape" - a week-long yoga holiday in Tenerife on January 9-16th 2023 with Matt Ryan and Isabella. It's a perfect combo of yoga, sun, good food and positive energy - simply the best way to start the New Year (more info at the Purple Valley Tenerife website).
AUTUMN SCHEDULE
The regular autumn schedule continues until 22nd December after which we adjust our opening hours during the Christmas and New Year holidays. We plan to offer classes most days with the exception of public holidays and moon days. You'll receive more detailed information about the Christmas and New Year schedule in the next newsletter. All temporary schedule changes until then can be found on the schedule page. Don't forget that one Sunday a month we have a guided Primary series class - the next occasion is on 6th November at 9:00. The class is followed by tea&talk where we have coffee and discuss a yoga-related topic. Keep your eyes open on our social media accounts for the next tea&talk discussion theme.
IN-DEPTH CLASS
In October, we launched a "mini-immersion class" with Isabella. On four occasions this autumn (Sundays after Mysore class) participants get the chance to dive deeper into various asana and practice-related issues. Each occasion is designed according to the questions we receive from practitioners in advance. An example of upcoming themes are standing postures and breathing exercises. The class is 1.5 hours and is donation based. The next session takes place on Sunday 30th October - read here for more info. Please email the yoga school with your registration and to submit your questions.
NEW COURSES IN NOVEMBER
FOUNDATION COURSE level 1, a 6-week intensive with Isabella on Mondays starting 7th November at 17:15. More info and registration here
YIN YOGA & MEDITATION, 10 weeks with Helena and Miho on Tuesdays starting 8th November at 17:30. More info and registration here
FOUNDATION COURSE/CLASS level 2, a 6-week intensive with Helena on Thursdays starting on 10th November at 17:15. The course/class is perfect for those who have just finished the foundation course level 1 on Mondays. The class/course is also open to practitioners who already have a practice card but everyone needs to register in advance with our partner Medborgarskolan for us to keep track of the number of participants. More info and registration here
FRIDAY FUN - the next session of our alternative after work class takes place on 18th November with the theme "Happy hips and hamstrings". All upcoming classes are found under the heading Courses on this website. Pre-registration is required.
ANNUAL BRUNCH AND OTHER EVENTS IN DECEMBER
PARTY - After the guided class on Sunday 4th December we invite you to our annual brunch at the yoga school. It's an opportunity to give thanks for the past year together and get a chance to get to know each other better off the yoga mat. Following tradition, the brunch is a pot-luck gathering where everyone brings a vegetarian/vegan contribution to the buffet. Family members, partners and friends are also welcome. Read more about the party and register here
REFLECTION - Miho holds space for the last Friday fun of the year on 9th December with the theme of "Journaling". The class focuses on meditation, stillness and reflection. Participants are invited to turn their attention inward and reflect on the past year. Read more about the class here and sign up.
THE LAST CLASS OF THE YEAR - giving back. To practice yoga involves more than just doing postures on the yoga mat. Karma yoga or Seva – which means selfless action – is also an important part. We therefore end the year in the sign of giving with a guided Primary series class for the benefit of the organisation V-Care in Mysore, India. On Friday 30th December Isabella teaches this donation based class where participants are kindly asked to make a small donation to V-Care Mysuru. Read more here and sign up. If you can't take part physically you may still donate via Swish 123 576 46 91. Mark your donation "30/12".
That's all for now - the next newsletter will be distributed in mid-December with information about the Christmas and New Year holiday opening hours, as well as a look ahead at upcoming events and courses in 2023. Isabella is planning an in-depth course where you will, among other things, learn to adjust others and thus gain a better understanding of the purpose and mechanics of the asana we practice daily. Keep an eye on the website in between newsletters and/or follow us on social media (links above in the menu). Keep in mind that if you haven't been to the shala for a while, we may have changed the door code. Please get in touch well in advance of your planned visit to get the new code.
Welcome to practice in the warmth of our yoga community!
Isabella & crew