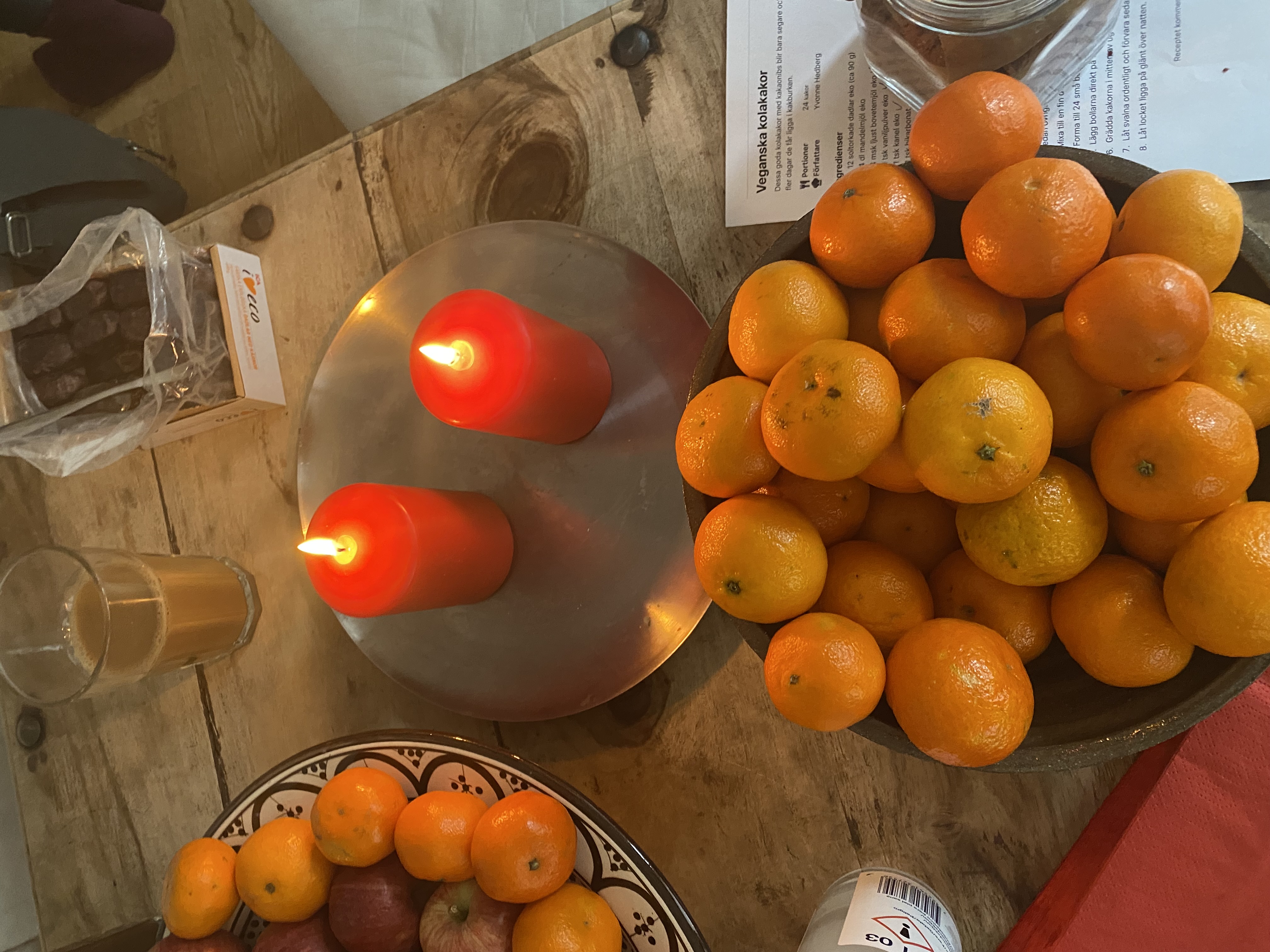 The autumn semester is racing past us at full speed and we are approaching the final stretch of 2023. It has been a great autumn with full beginners'/foundation courses and many new faces on the mats in the shala. We are so happy that our yoga community is growing and thriving with old and new participants. Thank you for telling your friends, family and colleagues about the positive effects of yoga, and for recommending the shala as well as our courses and events. We hope that the more people who practice yoga, the more of its benefits will reach both individuals and society as a whole. Please continue to invite your friends to the yoga school.
In December, we plan several events where there's an opportunity to meet both on and off the yoga mat. In January, you also get the chance to join Isabella on a yoga holiday to Tenerife and get inspiration for another year on the yoga mat. Read this newsletter to keep track of what's happening at Ashtanga Yoga Malmö in the coming months.
CHRISTMAS & NEW YEAR SCHEDULE
We have a few weeks left of the autumn schedule which runs until Christmas. Between 23/12 and 7/1 there are special opening hours at the shala - click here for a sneak peek at the Christmas and New Year schedule. The spring semester starts on 8/1-2024.
ANNUAL BRUNCH / POTLUCK PARTY
After the guided class on Sunday 10th December, we invite you to our annual Advent brunch (veg. potluck). We end the year together, eat and drink well and get the opportunity to make new friends off the yoga mat. Our brunch is always a highly appreciated event at the shala and we look forward to seeing you all. Bring your partner/family/friends and a vegetarian/vegan contribution to the buffet. Let us know in advance if you plan to come and what you will bring to the buffet - read more here for registration.
LAST CLASS OF THE YEAR / NEW YEAR'S YOGA
On New Year's Eve, 31/12 at 9-11am, we end the year with a guided class of the primary series in Ashtanga yoga. The class is donation-based and all proceeds go to the organization V-Care in India (read more here). You don't need to be proficient in the full primary series to participate, but you must be familiar with the basics of the Ashtanga yoga system. If you can't join the class you are still welcome to send a contribution via swish 123 576 46 91. We ask that you register in advance via our partner Medborgarskolan so that we know how many will come - more info here
YOGA HOLIDAY TO TENERIFE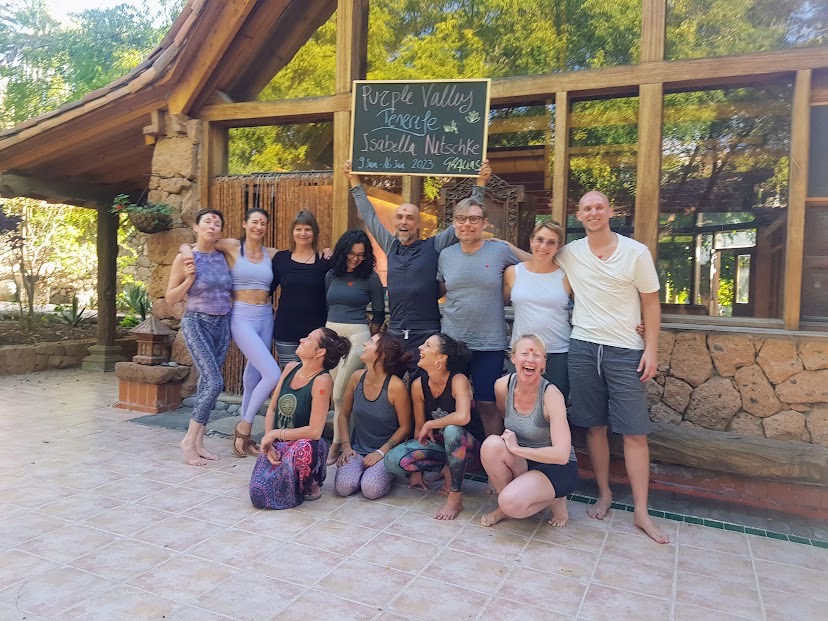 Come along to the Purple Valley Yoga Centre in Tenerife and get new inspiration and energy for 2024. Isabella is teaching a 10-day yoga retreat at the beautiful Finca Naranjas between January 2-13 (arrival and departure days are 2nd and 13th). Get a fresh start and begin 2024 in the very best way with yoga, sun and great food. It's the second year in a row that we travel to Tenerife and it's a welcome break from winter in Sweden. Take the chance to recharge your batteries with this wonderful trip. More information about the program, price and how to book can be found here.
OTHER EVENTS IN NOVEMBER / DECEMBER
TEA&TALK WITH MARTIN GANSTEN - we have two sessions left of the course in "the history and philosophy of yoga" with Docent Martin Gansten from Lund University. Here we learn more about yoga beyond the yoga mat and get a better understanding of why we do yoga postures and what the practice is about. Each session has a different theme and you can choose to participate live at the shala or online. If you missed a session all are recorded and available via Zoom. Remaining dates are 26/11 and 17/12. Read more here and please book in advance.
RESTORATIVE YOGA - a special class with Miho one Friday a month. Participants get a chance to recovery and rest in stressful and dark times. Remaining sessions 17/11 and 15/12. Read more here
A SNEAK PEEK AT 2024
The spring schedule starts on 8/1-2024 and we can already reveal some important changes to the schedule:
- The "MOON-DAYS disappear" in 2024 and we teach every day of the month instead of pausing at full/new moon like we have done in the past. Anyone who wants can of course still choose to rest on these days and a list of all "moon-days" will continue to be published here.
- TEA&TALK on various yoga-related topics with Isabella is reintroduced one Sunday a month and we also plan other inspiring events and workshops (please get in touch with your questions and requests about themes and classes). The spring schedule will be published after the holidays, but our courses, workshops, etc. for the first quarter of 2024 are already available on the events page.
- The YIN YOGA course sees a change of teacher and is moved to Thursdays. Miho takes a break from teaching to study next year and Helena takes over the yin yoga course/class as from January. At the same time, the sister shala in Lund closes down. We're very sad about this but we thank Miho for all the years (10!!!) that she has been part of Ashtanga Yoga Malmö (and Lund) - we will miss her invaluable expertise and stable presence.
- The INFLATION is giving everyone a hard time – the shala included – and unfortunately we have to adjust the prices of our practice cards as from January 2024. During our ten years in operation we've only raised our prices once, but now we sadly have to make a second adjustment. The new prices for 2024 will be available here shortly.
That's all for now; the next newsletter will be distributed after the Christmas and New Year holidays with more detailed information about the spring schedule and all the news for the first half of 2024. Please stay updated between newsletters by following us on social media (links in the menu above). If you are not a member of our closed Facebook group, we recommend applying to it to get access to the latest news and updates at short notice.
Practice peacefully this advent! #ahimsa
Isabella & crew
P.S You can use your wellness allowance with us, and we are also approved for Physical Activity on Prescription.