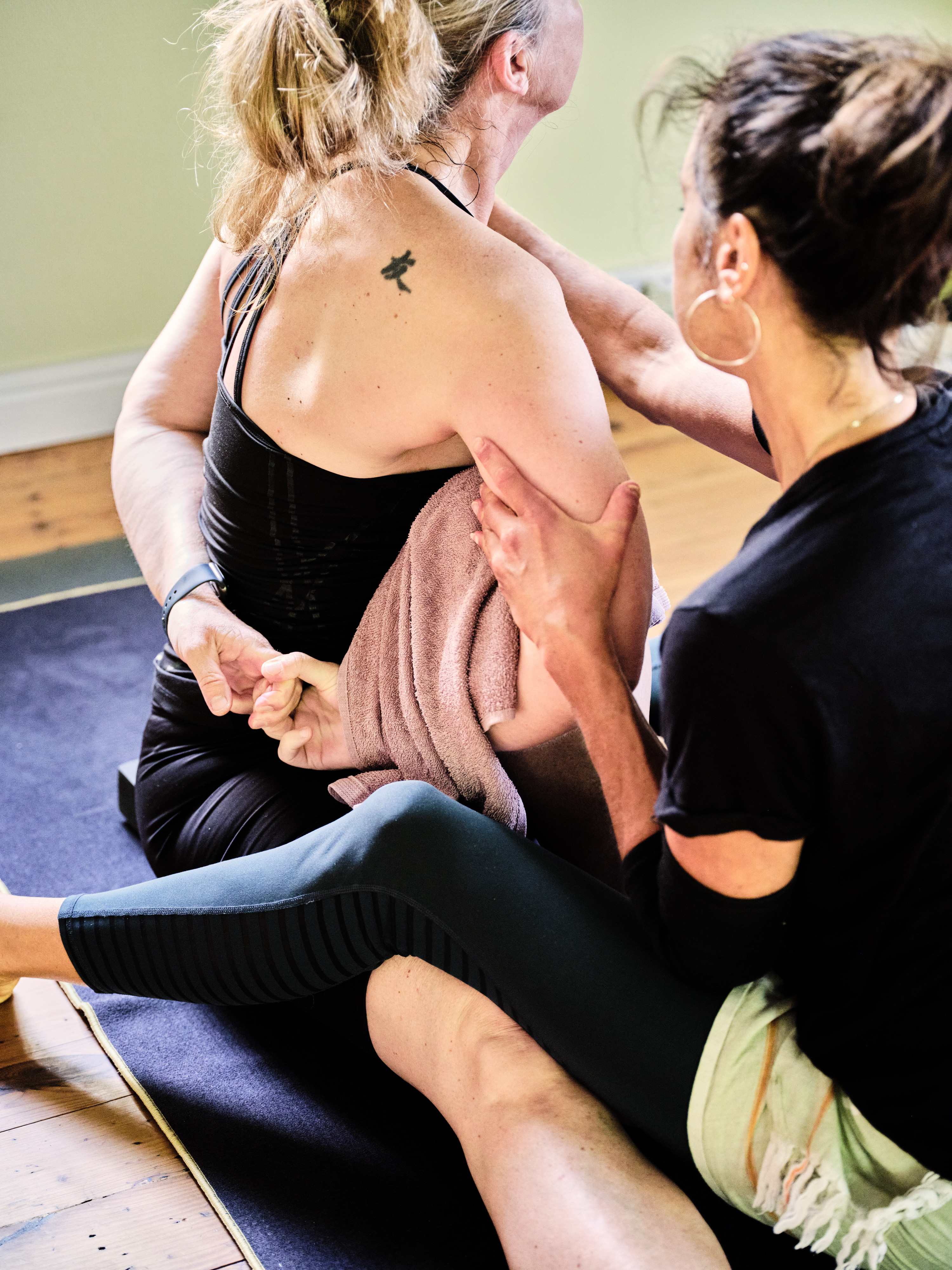 Our autumn activities have kicked off properly with new evening courses and workshops up and running. The morning classes are full and there is a wonderful energy in the shala. As a teacher, it is truly a privilege to start ones day with so many wonderful people and we hope you feel the same. When the shala is busy, we would like to remind you of the importance to be considerate of each other and make sure to place your mats so that people can fit in as they show up. We also ask you to do your finishing postures and rest in the adjacent dance studio should the shala be full. In this way, everyone gets the same amount of space and the teacher has a better overview of the room. Please also read the shala guidelines and follow them before/when you come to class. We thank you for your understanding and cooperation.
AUTUMN SCHEDULE
We have a lot in line for you at the yoga shala this autumn with numerous workshops and guest teachers coming up. In this newsletter you get all the details about upcoming special events - continue reading below. The regular autumn schedule with temporary schedule changes can be found here. Don't forget that one Sunday a month we have a guided class of the Primary series - the next one is scheduled for 2/10 at 9:00. The class is followed by tea&talk where we have coffee/tea and discuss a yoga-related topic. In response to your requests for information about the principles of Ayurveda and the relation it forms with our yoga practice, we have invited Sussie Nicklasson to the next tea&talk. Sussie will give a short lecture on Ayurveda and answer your questions. Tea&talk is usually free of charge, but this time we would be grateful if participants give a donation to Sussie.
GUEST TEACHER MÅNS BROO
Later in September, we have the honor of welcoming Måns Broo, FD at Turku Academy, to the shala. The weekend of 24-25/9, Måns teaches a workshop on the important yoga text the Bhagavad Gita. It is the second time Måns visits us in Malmö - last time he gave a lecture on the Patanjali Yoga Sutra. If you want to learn more about what yoga is aside from postures on the yoga mat, Måns' workshops are a goldmine! Måns' teaching is both interesting, fun and easy to understand. The workshop takes place live at the shala but is also broadcast and recorded via zoom. This means that it's possible to participate even if you cannot be there physically. Read more and register here (the workshop is taught in Swedish)
NEW COURSES IN SEPTEMBER/OCTOBER
If you didn't get a spot on the courses that started in September you have another chance later this autumn. In October, we add classes on Saturdays:
FOUNDATION/BEGINNERS COURSE LEVEL 1 - 8 weeks with Helena on Saturday mornings at 10 a.m. starting 1/10 (more info and registration here).
FOUNDATION CLASS/COURSE LEVEL 2 -  with Helena on Saturday mornings at 08:30 starting on 1/10 (more info and registration here). If you already have a practice card with us you can use this to join the class. However, everyone needs to register in advance with our partner Medborgarskolan so that we can keep track of the number of participants. More info here
In addition to Ashtanga yoga, we especially want to draw your attention to a new course in YOGA FOR STRESS REDUCTION that starts on Tuesday mornings from 27/9 at 11-12. The course is suitable for anyone who needs to reclaim balance in life, is/has been on sick leave or just needs a break. Take an early lunch hour and get some quiet time in the middle of the day. Read more and register here (the course is taught in Swedish)
IN-DEPTH ASANA TECHNIQUE

As we receive a lot of questions about yoga practice, the function and meaning of the postures etc. , we have decided to introduce a new class with a special focus on that. We start on a small scale with a "mini-immersion class" that Isabella teaches 4 times this autumn (Sundays after the mysore class). Each session will be based on the questions and requests we've received from you. The class lasts 1.5 hours and is donation based. Dates for this autumn are 18/9, 30/10, 27/11 and 18/12. Mark these dates in your calendar and read here for more info. Please also feel free to contact us with questions.
One Friday a month it's playtime on the yoga mat. FRIDAY-FUN - our alternative after-work class gives you a chance to explore and try postures outside of your daily practice and look at different techniques, get inspiration and have fun. The first class is taught by Sofia with the theme "Handstands and transitions". Dates for the autumn classes are 16/9, 21/10, 18/11 and 9/12 all at 5pm. The different themes are found under the heading courses.
YOGA HOLIDAY IN TENERIFE
Our winter yoga holiday goes to Tenerife, Purple Valley Yoga Centre. Isabella and Matt Ryan (who has been guest-teaching in Malmö twice in the past year) are joining forces and to teach a 7-day yoga retreat on January 9-16, 2023. Don't miss out on this opportunity to start 2023 in the very best way with sunshine, yoga and great energy! You get more information about the retreat and how to register via Purple Valley's website.
YOGA IN LUND
Some of you have probably already heard that on September 1 we resumed teaching in Lund after a break of almost three years. This time we've started a separate branch - Ashtanga Yoga Lund - where classes are taught by Miho Hellén-Halme and Helena Frentzell. We continue to collaborate with Medborgarskolan also in Lund and classes take place at their premises at Bangatan 10. Membership cards bought in Lund may be used to practice in Malmö and vice versa. You can find out more about Ashtanga Yoga Lund, the class schedule, etc. here
YOGA FOR EVERYONE
We always appreciate when you share information and recommend our courses, workshops and events with family, friends and colleagues. Maybe your employer/workplace would like yoga tuition on site – in such cases we are happy to come and teach tailored classes on site. And please don't forget that you can use your "friskvårdsbidrag" and that we are approved for Physical activity on prescription (FaR). Feel free to email us for more info or requests.
That's all for now. Please stay up to date in between newsletters by following us on social media (links in the menu above). If you are not a member of our private Facebook group we recommend that you apply to get access to the latest news and updates at short notice. Keep in mind that if you have not visited the shala for a while, we may have changed the door code so please get in touch well in advance of your planned visit to get the new one.
See you on the yoga mat! Let's stay warm together in the shala while autumn gradually approaches.
Isabella & crew